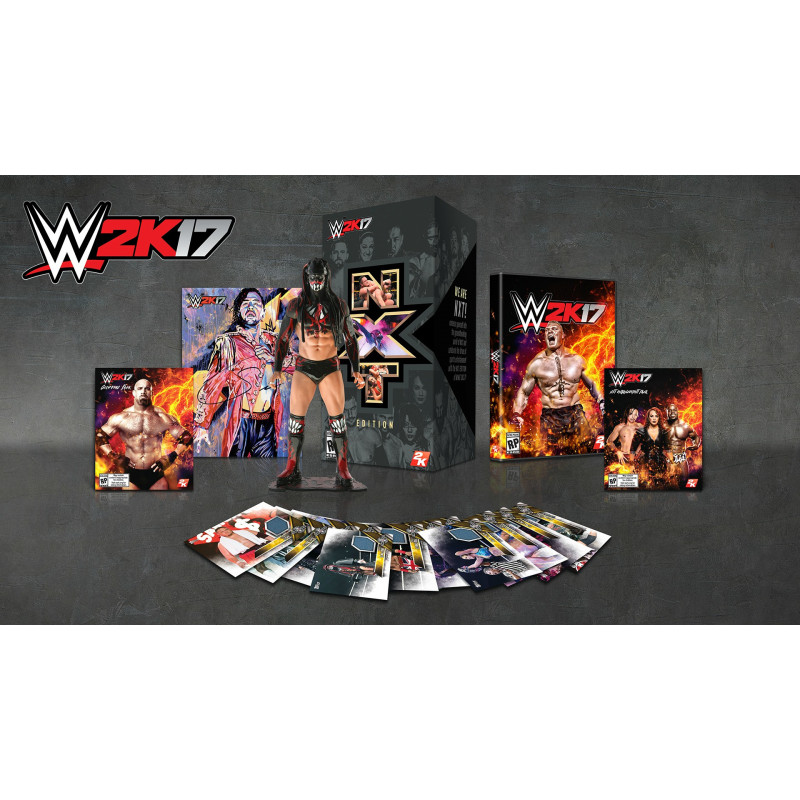  
WWE 2K17 NXT Collector's Edition Edition PS4
1-4 žaidėjai
online 2-6 žaidėjai
Min 46.06 Gb laisvos vietos
Rezoliucija 720p, 1080i, 1080p
A copy of the WWE 2K17 video game;
Exclusive premium packaging;
NXT Enhancement Pack:

Playable NXT Superstars: Shinsuke Nakamura, Nia Jax and Apollo Crews;
50 percent more points at NXT in MyCareer;

Exclusive Canvas 2 Canvas lithograph designed by WWE artist Rob Schamberger and autographed by NXT Superstar Shinsuke Nakamura;
Exclusive eight-inch "Demon" Finn Bálor collectible figurine;
Exclusive Topps NXT TakeOver: London Mat Relics Card:

Each card will include a piece of authentic ring canvas from the event;
Each card will feature one of 14 featured Superstars from event;
Each Superstar's card will have one of 10 different rarity levels; 

Goldberg Pack: access to two playable versions of legendary WCW and WWE star Bill Goldberg, as well as playable WCW Monday Nitro and Halloween Havoc arenas.
It's a great mix of prized physical collectibles and must-have digital Superstars! Now is your chance to lock in your copy as they'll be limited to just 50,000 copies worldwide.